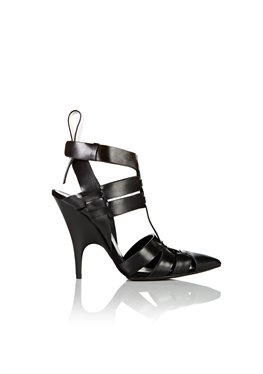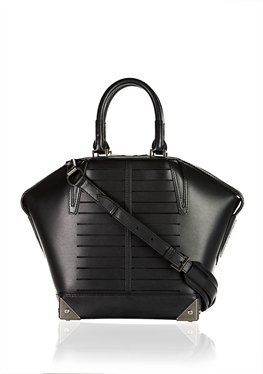 You'd think it would be so easy to find the perfect black heel for spring. That's like finding the perfect white top! With so many choices…we narrowed it down to one of our favorites…The Danica from Alexander Wang.The Danica with it's sculpted wedge, slashed straps and woven pump is so chic and cool.It's the perfect statement heel for spring and summer dresses, skirts, leather leggings and cropped skinny pants.Wang's Danica wedge looks great dressed up or down.
We wanted to find a shoe that was both stylish and edgy.This definitely fits the bill.While we love Manolo Blahnik and Jimmy Choo we were looking for a shoe that was different and ultra trendy and not bizarre.(like Skovgaard or Jeffrey Campbell) The Danica is pricey but it looks amazing on.
The cow leather shoe features a rubberized sculpted wedge heel and buffed leather sole. We're loving Alexander Wang's pointy toe and
funky wedge style heel.The shoe elongates your foot making it look sexier! Click the link to indulge Alexander Wang's Danica Wedge.Be sure to view the whole collection.Pair the Danica Wedge with Wang's Black Utility Shirt Dress and Emile Tote with Black Nickel Hardware for a complete and edgy look!